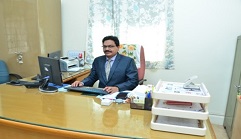 "We are committed to help our students to become successful with the skills & knowledge necessary to maintain an edge over the competition"
PVG's College of Science (PVGCOS) has an objective of developing a distinctive brand of educational leadership, well equipped with skills to address demanding challenges faced by the industry and the society. Our esteemed alumni are the supporting pillars who guide and help our existing students to understand ever changing industry requirements and prepare themselves accordingly.
We, at PVGCOS believe in empowering our students and motivate them to acquire advanced knowledge in their field to explore better career opportunities. PVGCOS has been amongst the leading Colleges in Computer Science Education in Pune since inception. Imparting high quality Computer Science education and training is one of the main objectives of the College. PVGCOS has a rich network of alumni which helps in directing and motivating our students to prepare their career path. The students mentorship programs and guest lecturers are conducted by the alumni and other noteworthy corporate leaders to enhance learning experience of the students.
Students in PVGCOS, besides the regular curriculum, are active participants in extra curricular and co-curricular activities, like inter collegiate competitions and industry projects. We maintain constant interaction with industry to mould our students into future business leaders. We at PVGCOS has undertaken a mission of creating business leaders, who will be job givers than the job seekers.
PVGCOS is located at a very convenient and well connected place in the heart of Pune City.
BEST WISHES !!
Dr. Sanjaykumar Gaikwad,
Principal,
Pune VIdyarthi Griha's
College of Science, Pune