Internal Complaint Committee (ICC) Committee
Pune Vidyarthi Gruha's College Of Science has zero tolerance policy against discrimination and sexual harassment. An act of sexual harassment is a punishable offence. In terms of the Sexual Harassment of Women at Workplace (Prevention, Harassment and Redressal) Act 2013, with a view to provide protection against discrimination and sexual harassment of women at workplace and for the prevention and redressal of complaints of sexual harassment and for matters connected therewith or incidental there to, the Internal Complaints Committee has been constituted in our college. The Complaints Committee will be responsible for the redressal of complaints made by employees or students and ensure time-bound treatment of the complaints as provided in the Act.
What constitutes sexual harassment?
Sexual harassment as defined in the Sexual harassment of women at workplace (prevention, prohibition and redressal) Act, 2013 includes any one or more of the following:
'Unwelcome' acts or behaviour :
(i) physical contact and advances
(ii) a demand or request for sexual favours
(iii) making sexually coloured remarks
(iv) showing pornography or
(v) any other unwelcome physical, verbal or non -verbal conduct of sexual nature.
This would also include online harassment via internet, sms and social network sites. Further, the following may also amount to sexual harassment:
(i) implied or explicit promise of preferential treatment
(ii) implied or explicit threat of detrimental treatment
(iii) implied or explicit threat about present or future employment status
(iv) interference with work or creating an intimidating or offensive or hostile work environment or
(v) humiliating treatment likely to affect health or safety.
The Process for Complaint and Inquiry
Step I: An aggrieved woman should give a written complaint either in person or through post or email. It should be submitted to the 'Prevention of Sexual Harassment and Atrocities against Women Committee' within 3 months of the date of the incident. The time limit may  be extended for a further period of 3 months if, on account of certain circumstances, the woman was prevented from filing the complaint. If the aggrieved woman is unable to make a complaint, her legal heirs may do so.
Step II : On receipt of the complaint, the ICC will proceed to make an inquiry in accordance with the service rules or in their absence, in accordance with rules under the Act. The inquiry will be completed within 90 days. And the inquiry report will be submitted within 10 days from the date of completion of the inquiry.
Step III : If the ICC finds that the allegations against the respondent are proven, it will submit a report to the Principal to take action for sexual harassment as misconduct in accordance with the provisions of the applicable service rules or where no service rules exist, in accordance with rules framed under the Act. Step IV: The college management will act on the recommendations of ICC within 60 days of the submission of the inquiry report.
Step V: Appeal against the decision of the ICC is allowed within 90 days of the Recommendation
In case of any complaint, an employee or students of the college may contact the following:
| Name | Designation | Contact No | Email ID |
| --- | --- | --- | --- |
| Mrs. Surekha Deshmukh | Chairman | 9421050818 | surekha.deshmukh@pvgcos.ac.in |
| Mrs. Swati Joshi | Secretary | 9403188788 | swati.joshi@pvgcos.ac.in |
| Mrs. Priyanka Khutwad | Teachers  Representative | 9764259352 | priyanka.khutwad@pvgcos.ac.in |
| Mrs. Kshama Deo | Non-Teaching Staff Representative | 9423001313 | kshama.deo@pvgcos.ac.in |
| Miss. Gayatri Patole | Student Representative  (PG) | 8766570134 | |
| Miss. Harshada Kale | Student Representative  (UG) | 9689247843 | |
| Miss.  Shruti Uttareshwar | Student Representative  (UG) | 7768965804 | |
| Mr. Adv. Rajesh Khaladkar | Legal Advisor (Advocate) | 9921408282 | |
Click here to see rules in details
Internal Complaints Committee (ICC) organized many activities such as Guidance Lecture of Mrs. Sandhya Gawali,, M Phil in (Gender/Women's Studies),on "The Sexual Harassment of Women at work place Prevention, Prohibition & Redressal)   , Act2013" organized for all employees and students of this college on 27th Feb, 2017 at 12 noon in the class room 2.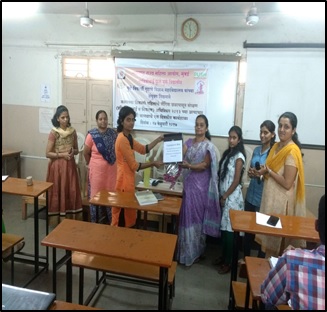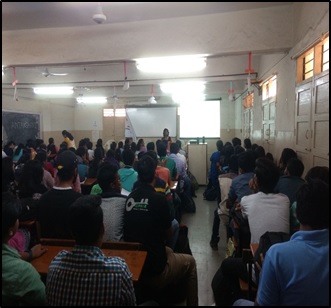 Also Talk on "Harassment and Violation of Women's Rights" by Advocate. Mrs Panchali  Banerjee organized for all employees and students of this college on 23th Dec, 2013 at 2pm in the class room 2.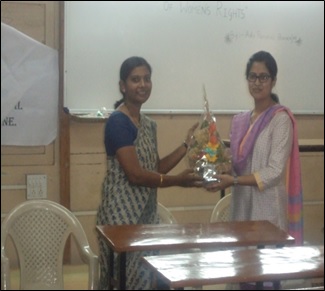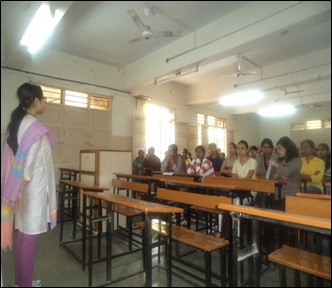 The Talks highlighted on the discrimination against women in every sphere of life, low status of women in psychological and social sphere , status of human rights all over the world, legal status, gender differences in perception, strategies to deal with it.